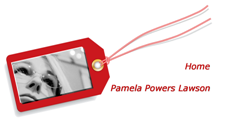 ......



"I am still getting phone calls from people saying how much they enjoyed hearing you speak and how much they liked you. I wanted you to know that. Gosh, any time you are in town drop in on our meeting ... "
—
—Jan Masoner, director, Creative Writers
Website copyright 2008 - 2014
Pamela Powers Lawson.
All rights reserved.
"Once again, as usual, you wrote an excellent article about a very sensitive Open Space issue. I found the article to be well written, balanced and very interesting. My compliments!!!" —director of Jefferson County Open Space
"I was one of the participants at last weekend's Swallow Hill Music in the Mountains. I live in Tennessee. I think it was so cool that you spent the whole day with us and actually participated in the workshop. I read your article and it sounds great. I would love to have it for a scrapbook that I'm putting together. Thanks for being there and really capturing the true essence of our retreat."
—A vocal artist
"I just wanted to tell you how great the article was that you wrote about the wine industry and about our family. It was terrific, you did such a good job, everything was so accurate and very positive and upbeat ... And I liked the article you covered about the town meeting. I always like everything you do."—The owner of a winery
"You very deftly and concisely captured the essence of my rants, and you put everything in a very nice light. I love the photo you chose!"—a manager at the U.S. Department of Energy's National Renewable Energy Laboratory
"I think that your article really helped to set some things straight. I think it was so journalistically sound. I want to send a letter to the editor."—high school advisor regarding a yearbook controversy that attracted national media attention
"What a splendid job you did with the article on our reading celebration at Beaver Ranch! Bravo! You're a real pro. Ordinarily, when anyone in the media handles this much raw data, always errors or distortions creep in. Not so with yours ... " —former college chair of English and Communication departments and author of nearly 50 anthologies