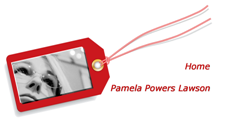 ......




"The attendees told me they very much enjoyed what you had to say about your experiences as a reporter ... I enjoy working with you and trust that we'll have many more opportunities."
—
—Barbara Timock, public affairs officer, U.S.D.A. Forest Service
Website copyright 2008 - 2014
Pamela Powers Lawson.
All rights reserved.


"I feel honored to have been written about by you."—educator/dance instructor


"Kerry Clough is so thrilled with your reporting! He told me last night that he's been interviewed dozens and dozens of times and NONE of them were so kind!
He has such a great sense of humor and such interesting stuff to tell.... and you just massaged it all into a really interesting story." —honorary Rotary Club member's comment about an EPA regional administrator


"Wow, Pamela, I got chills when I read your story about Joe Cushing! Thanks so much for making my day, and also for making Joe's year! It was a great piece." —principal of a middle school


"Hey Pamela, what an amazing story you wrote to such a tragic event. Not many people have the ability to capture a story like this without exploiting the victims. Brought me to tears."—fellow journalist


"You're article and wonderful pictures captured the spirit and intent of our event and ultimately helped us raise more money for new technology for our school."—school librarian


"Milton Dailey called to rave about the job you did on his story. "First time in 12 years that someone did a story about me that wasn't screwed up. She nailed it ... and with a phone interview yet!" Keep up the good work, Pam."—comment from newspaper publisher about the publisher of a hunting magazine